Stužica Virgin Forest
My Excursion to Eastern Slovakia and the Stužica Virgin Forest
Kouta Räsänen, Finland
August, 2005
Hiking the Kremenec Stužica Virgin Forest Eastern Carpathian Biosphere Reserve
Editor's Note: The protected Stužica Forest is located in the northeastern-most corner of Slovakia, northeast of the village of Nova Sedlica. Enlarging the above map, navigate to the top right corner. The Slovakia sector of the forest is in the dark green sector. This story describes the 2005 trip of a Finnish citizen and his trek to see this remote and rare sector of central Europe.
My Objective
The main objective of my excursion to Eastern Slovakia was to visit the virgin beech forests in the Stužica Reserve which is located in the easternmost corner of Slovakia, north of the town of Nova Sedlica.
Getting There
I traveled to Eastern Slovakia from Prague. The journey was quite complicated: first by bus to Košice, then by another bus to Humenné, by train to Stakčin and finally by taxi to Nova Sedlica (because I missed some connections and there were not any buses in the evening). I returned by a different but equally complicated way with a long distance train.
Bus and train connections are frequent and inexpensive but quite slow. Local (short distance) buses and trains are old. They are usually completely full. If you do not board from a terminal point, you may have to stand. There is an extra charge of 5 to 10 crowns for luggage. For long distance buses you must make a reservation. The buses are new and comfortable, but they are also usually full (but you do not have to stand, of course). Buses are usually late, too. My bus from Prague to Košice was over an hour late, for technical reasons (for example, the bus refueled in the middle of the trip!) and other traffic (there was tractors on the road and so on). I would recommend trains; they are more punctual.
There are web search tools for connections at www.cp.sk but it does not give all the connections. So, check in the stations for other connections. If these sites gives a connection with very short transfer time (like 5 minutes), choose another: a bus is likely to be more than 5 minutes in late! I missed a connection twice.
Taxis are also inexpensive but you are likely to find the ride frightening!
Nova Sedlica
In small towns people are very friendly. Soon after I got my pension in Nova Sedlica, I came to know the owner (?) of the village shop next to the pension, and her three lovely daughters Mary, Darina and Anna and Juri from neighbor town.
There are about 300 inhabitants in Nova Sedlica. A few speak German but speaking English would be difficult. Russian is more frequently spoken. I studied the Slovak language for two months myself and could say most of essential things at least with a dictionary.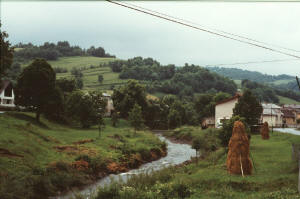 The small towns are beautiful, idyllic and old-fashioned. There is not large-scale agriculture any longer but hay is still harvested. Many fields are slowly becoming overgrown. However, almost all the houses have garden and they are VERY well managed. Chickens run free, cocks crow at the crack of dawn, and an old woman herded black goats on the shoulder of a road.
In the town, there are not as many old people as you might think. In contrast, there are plenty of young people and children. On Saturday there is a disco in neighboring town of Zboj. I was invited to go, but I was too tired.
There are many people trying to get into the EU from across the the Ukraine border. Because of that, Slovakia police patrol the small roads near to the border. You should have your passport always with you. I saw the police many times, one time they tried to ask me something (like, if I have a car) but I did not understand very much...
Pension Kremenec
I stayed in Nova Sedlica at the Pension Kremenec. It is quite modest and inexpensive. The owner speaks German quite well, English not so well. You can reserve accommodations via email: penzion@kremenec.sk . They have a web site as well: www.kremenec.sk I wrote in English and they answered in English. When I was there, there were no other foreigners. Sometimes in summer there are a few German or Polish people, but they are quite rare.
In the pension there is the option of breakfast, but no earlier than at 9 a.m. In the same building there is also a bar and on Friday people party there until to midnight. Otherwise the place is very quiet.
Stužica Reserve
The Stužica National Nature Reserve is a part of Poloniny National Park and one of the very few virgin forest remnants in the Central Europe. It covers 761 hectares of hilly forestland. The annual precipitation is 800-1000 mm.
There is a modern information center next to parking place in the beginning of the foot track. However, almost all the information is in the Slovak language, with only a summary in English. Also the guide does not speak English or German (but he does speak Russian).
Outside of special reserves forest is a much younger forest consisting of indigenous ( natural) and a few introduced species (like Red Oak, Quercus rubra). Also in Stužica Reserve there are some marks of prior human influence: along Stužica Rieka (Stužica River) there is younger forest, small meadow and abandoned cart-track (forest logging railroad.)
The virgin forest consists of following three tree species (The largest diameter at the chest height which I measured is noted afterward):
Beech (Fagus sylvatica), 118 cm

Sycamore Maple (Acer pseudoplatanus), 105 cm

Silver Fir (Abies alba), 162 cm
Beech is dominant everywhere. The largest trees are on the north side of Stužica Rieka. With increasing altitude, the proportion of Sycamore Maple increases but the proportion of Silver Fir decreases. That was a surprise to me: In many other areas in Central Europe fir-belt occurs above beech forest. Above 1100m there is also a little proportion of Mountain Ash (Sorbus aucuparia). The tree-line is at 1150-1200 m and the highest point is at Kremenec: 1221 m.
Who said there is no undergrowth

in the beech forest?
Undergrowth in the virgin beech forest is much richer than in young even-aged beech forests in Western Europe. In most beech forests we find only reddish brown layer of dead leaves on the forest floor due to the dense closed canopy of even-aged trees. However, in virgin forest there are trees of all ages and sizes and plenty of openings in the canopy left by fallen trees. Therefore only in shady valleys is the forest floor uncovered.
In the Poloniny National Park there are 6 wisents (European bison, 5 of them are brought from Poland and one has come by itself), wolves, 10-15 brown bears, for example.
| | |
| --- | --- |
| European Fire Salamander | A polypore on a dead tree |
Camping is allowed only in designated sites and in the special reserves it is not permitted to leave marked paths.

During four days I only encountered people four times on the footpaths. All of them were Slovak.

Kouta Räsänen

The author, standing in front of the largest fir tree he encountered.
Text Copyright © 2005, Kouta Räsänen, Photographs Copyright © 2014, Bill Tarkulich and © 2005-2014 Kouta Räsänen
Links to off-site webs will open in a new window. Please disable your pop-up stopper.
Last Update: 15 November 2020 Copyright © 2003-2021, Bill Tarkulich