Ulič (Utczás/Ulics)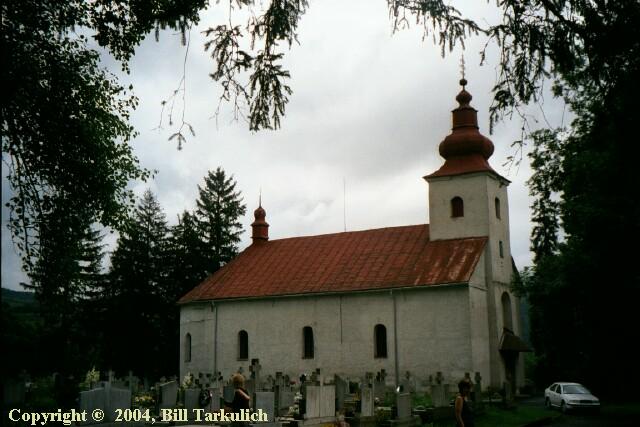 Greek Catholic Church
Photo Credit: Mick Sura, 2001
If you would like to contribute knowledge or material about this village, please drop us a note.
Highlights
Ulič has been the administrative center for several small villages in the region - Nova Sedlica, Zboj, Ulicske Krive, Kolbasov, Runina, Rusky Potok, Prislop for a couple hundred years. It is not a large village, but was the place where the former Czechoslovak government chose to build a couple of factories and housing to provide employment for this impoverished region. These companies failed to make the transition to the free market economy in the 2000s. Ulic is also the home to some my cousins who moved here for employment in the 70s. It has a Greek Catholic and an Orthodox Church.
First Mentioned
1451
2001 Population

1176

147 Rusyn, 77 Ukrainian, 952 Other

571 Orthodox, 186 Greek Catholic, 419 Other

Other Population Years

1787 – 497

1828 – 467

1869 – 618

1880 – 635

1890 – 744

1900 – 857

1910 – 998

1921 – 903

1930 – 1141

1940 – 1284

1948 – 960

1961 – 1289

1970 – 1409

1980 – 1379

1991 – 1180

2001 – 1068

1914 Population
998

31 Magyar, 54 German, 884 Ruthenian;

31 Roman Catholic, 906 Greek Catholic, 59 Jewish

Total Area

2,398 hectare

Village Names

1451 Huličs (Hvlydch)

1492 Uličz

1773 Uleuž

1808 Uliča

1920 Ulič, Magyar/Hungarian Uličs, Utczás

Ulics, Ulicz, Ulinz, Ulica, Ulits, Utcás

1451 Hvlydch, Hulicz, Hulitsch, 1773 Uluež, 1808 Uliča

Ownership
Originally owned by the Humenne estate, it later passed to the Szirmay family.
Church
Orthodox Chrám Záštity Presvätej Bohorodičky
Affiliated Parish: Runina – Chrám Záštity Presvätej Bohorodičky
Greek Catholic St. Mikuláš (Nicholas) 1825
History - by Vasil Fedič, 2002
The village was established by Walachian law between the end of the 14th and early in the 15th century. Some sources state that the village originally was mentioned under the name Uličsa, as royal property of Eodonfy, but it is not possible to verify this.
The first documented record comes from 1451, when court judge Ladislav of Pavloviec (beyond Uhom) resolving the matter of the Drugeth death taxes related to the Humenne estate, whose investment holdings included Ulič.
A later remark about Ulič comes from thievery activities of the bandit Fedora Hlavateho, who was a member of the Ulič village in 1492.
In the 18th century Ulič land was owned by Szirmazovci, then Vandernathovci, and later Princess Beaufort Spontin Fridesova. In 1939-1944 the region was owned by Count Tielewinkler. In 1577 the village contained a manor and eight homesteads (port). In 1612 a water saw-mill was mentioned, in 1660 and 1720 a mill and 16 houses. In 1787 the village had 67 homes and in 1828 there were 61 homes. Close to the mill a crazing-mill (washing) [milling of the tin from rocks] was located. This mill was instrumental to sheep wool processing. Besides Ulič residents, residents of Uličske Krive also worked here. In the 18th century a community center and a stately, expansive manor-house estate and a trade building and many gardens were constructed. A small hunting manor-house was built in the 19th century on Valalstine.
The first regional (public rail) transit to Ulič was initiated at the end of the 19th century. It began in Velykyj Bereznyj and ended at Zboj. In 1908 the narrow-gauge railroad from Zabord was completed, which led from the Ulič valley, along the Zbojske stream, ending in Nová Sedlica. A feeder line to this railroad went from Ulič to Kolbasov. It was not only used to transport timber, but also people, mail and other necessary goods and material. Its operation represented a marked improvement, linking the Ulič valley communities with Velykyj Bereznyj, Uzhorod and other village and towns in Užskej county. (In spite of the administrative incorporation of the villages of Ulič valley to Zemplin county, this was a geographically natural coupling with the Uh valley. Velykyj Bereznyj, separated from Ulič by only five kilometers, was until recent times its commercial, religious and education center. Ruthenia (Podkarpatia) was split from Czechoslovakia and as a result of the new national border in 1945, this section of the Ulič valley territory became inaccessible from Slovakia.
In 1934 a forest worker's strike in the village was recorded.
During the Second World War the village was annexed to Hungary from 1939 -1944.
The village was liberated on 26 October 1944. On 6 December 1945 Banderovci murdered four members of a Jewish family.
After the war a great many residents departed for employment in the Czech lands. From every family, two to three young people departed. Some entire families departed Ulič to fertile soil to Kralovskeho Chlmca and environs. In 1947 some families moved to the Ukraine.
In 1947 a state forest administration (office) was established in the village. The first bus route Snina-Ulič-Zboj, began its route through the communities on 17 July 1947. Construction of new roads through Karcaba ridge began in 1951. It is still the only public route linking Ulič valley communities with the surrounding world. In 1954 a small water electric generating station was built, which occasionally delivered power for village lights until 1959, when the village was connected to the public power networks. In the same year, a small brickwork fabrication plant was established. It was situated on Horke - at Hurci – close to the present soccer field.
From the 1960s the village progressively added a new primary school-house, culture house, health center, restaurant, shopping center, municipal water-supply and waste treatement facility. In the 1980s an addition to school-house gymnasium and health center dining-hall, and near the soccer field was sited a swimming pool and a stage. Since 1967 manufacturing establishments in the community employs people from entire Ulič valleyat the wood processing plant TVARONA, which is in the center of the village today. The agricultural land office in Ulič has nearly reached its 30th anniversary in the village, established on 1 January 1973, to create and maintain the socialistic cooperative farm lands for twelve surrounding communities.
The village provides visitors with year-round accomodations and facilties by reservation, with more than 50 beds. In the winter season the village operates a ski-lift. Presently, the construction of a new culture house is nearing completion.
In 1995 in the location "Za malou vodou" ("behind little by water") a new Orthodox church was built. Nearby are an interesting Holy Cross /Crucifix and a monument near the road bridge approach. The oldest of these crucifix is from 1902 at the Greek Catholic church, which is maintained by local parishoners.
1451 Hvlydch, Hulicz, Hulitsch, 1773 Uluež, 1808 Uliča. It belonged to Humenné town and in the XVIII century to Szirmay family. During the History, its inhabitants were occupied as woodmen. Source: Roberto Cannoni, Italy
· In the village is located the brick Greek Catholic church of St. Nicholas, neo-Baroque, built about 1867, painted in 1887 and expanded in 1927.
· Old literature notes the first discovery of a gold rod, whose presence suggests the existence of a route and the flow of culture from Ukraine to our region during the bronze age.
· Memorial tablet to Rudolfa Winera.
Photos

Defunct Wood Products Factory
Name of company: TVARONY ULIC, 2001

Orthodox Church (built circa 1996)
Built when Orthodox were forced to return the GC church building they had occupied since 1950.
Photo Credit: Mick Sura, 2001

Postcard
Circa 2001

Ulic
Approaching the village from the west. 2001.

Ulic
Looking NW from the Orthodox church, across creek towards Greek Catholic Church on hill. 2001
Photo Credit: Mick Sura, 2001

Ulic
Roadside, 2001
Photo Credit: Mick Sura, 2001

Making Charcoal in Ulic
E of town, on road towards Ukraine. 2001

Let's go Skiing in Ulic!
S of village. Small rope tow. 2001

The road to Ulic
Approach from the West, 2001

Tavern in Ulic
Near the GC church, 2001

Ulic from hillside by Greek Catholic Church
Southerly view, 2001

Mountains from Ulic
From GC cemetary, looking W. 2001
Greek Catholic Church
If you look closely at the engraved cross over the door, you can see how the bars have changed after it was returned to the GC church. 2001

Gypsies on horsedrawn cart.
Ulic
Original Manor House, Ulic
Used until recently as a kindergarten. Nationalized in the 1950s. Picture from 1960s or 1970s.
Photo Credit - Vasil Fedic, 2002.

Ulic construction of TVARONY wood products factory, 1970s
Photo Credit - Vasil Fedic, 2002.

Ulic, new housing, 1970s
Photo Credit - Vasil Fedic, 2002.

Ulic - Brickmaking, 1970s
Photo Credit - Vasil Fedic, 2002.

Ulic new worker housing, 1970s
Photo Credit - Vasil Fedic, 2002.

Ulic Valley Soccer Team, 1970s
Photo Credit - Vasil Fedic, 2002.
Residents from Zboj, Nova Sedlica

Ulic Village Offices, 1970s
Photo Credit - Vasil Fedic, 2002.
Ulic - Construction of new school, 1970's
Photo Credit - Vasil Fedic, 2002. Look closely and you'll see the brick boxes called housing in the center. In the distance to the R you can see the Greek Catholic Church on the hill. Facing north.

Panorama of Ulic
Photo Credit - Vasil Fedic, 2002.
ANDERKO, BOBELA, BUBSLA, BYCZEK, CHANLIN, CHAUTUR, CHOCHRUN, CHOMA, CSOKENA, CZONSA, DOHUN, DZUBA, FEDIC, FULICS, GAJDOSAK, HAMAS, HAUTUR, HLIVKA, HOMAS, HRIB, JEDRYSIK, JURANICS, KACSALA, KACSUR, KANDRAC, KARAPIN, KASZICS, KELETI, KLEMECA, KNSZIN, KOBAN, KOCAN, KRAMAR, KUSZIKA, LABANC, LACH, LIACH, MALINSZ, MERMELSTEIN, MICHALKO, MOCHNAC, OKULICZ, OPABINK, PALASAK, POPOVICS, POTOCKA, POTOCKY , ROMAN, RUSIC, RUSIN, RUSIN, SANTA, SAR, SCHONBERGER, SICAK, SPAK, STANKO, SULIC, SVEJKA, SZULICZ, TIRPAK, TOPOLANCIN, TSZER, VAKULICS, VASZYLI, VOKULIC, WEISS, ZBORAI, ZBORAS
Note: Alternate surname forms may or may not be shown due to incomplete research.
Unless otherwise noted, Photo Credit: Bill Tarkulich, 2001
Links to off-site webs will open in a new window. Please disable your pop-up stopper.
Last Update: 15 November 2020 Copyright © 2003-2021, Bill Tarkulich