Radatice(Sárosszentimre-Radacs)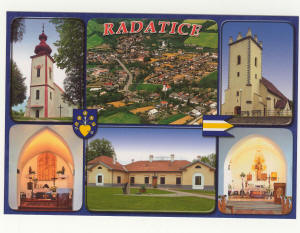 | | | |
| --- | --- | --- |
| Village Information | Village Links | Regional |
| | | |
| | | |
| | | |
| | | |
Highlights
This is a tiny village located about 10 KM South of Prešov. It is in the Čierna Hora Micro region. It is located in the former Saros country(vm), Eperjesi districs(jaras). Today it consists of two merged villages Meretice and Radačov.
First Mentioned
2001 Population
0
1914 Population
404: 30 Magyar, 6 German, 368 Slovak

334 Roman Catholic, 38 Greek Catholic, 21 Evangelical

Village Names
Meretice: Sarossyentimre

Radačov: Radács
History
The village of Radatice was formed in 1957 by combining the villages of MERETICE and RADACOV. In 1970 the population of Radatice was 981 and the village covered 1,939 hectares.
The two parts of the village used a variety of names over time. The year shown is the year in which that form of the name was first recorded.
Meretice: 1332 Sanctus Emericus, Scenthemrych, 1773 Mereczicze, 1920 Merecice, 1927; the Magyar version was Meresicze
Radacov: 1261 Radach, 1273 Rodachfolus, Radachfelde, 1368 Radach, 1773 Radaczow, 1786 Radacov, 1920 Radacovce, 1927 Radacov; the Magyar version was Radacs.
Before the merger of the two villages, the Meretice part had a 1961 population of 323 and the Radacov part had a 1961 population of 595.
Source: "Country Dictionary Then and Now", Frank R. Plichta. Used with permission. Provided by Edward Amrick.
Photos
AMRICH/AMRIK/AMRICK
Researcher: Edward Amrick.
Links to off-site webs will open in a new window. Please disable your pop-up stopper.
Last Update: 15 November 2020 Copyright © 2003-2021, Bill Tarkulich