Pticie(Peticse)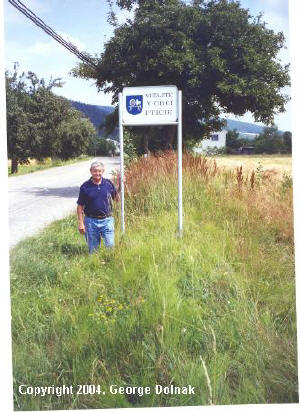 Pticie is a small village located in east Slovakia, slightly southeast of the town of Humenne. We have very little information about this village. If you would like to contribute knowledge or material about this village, please drop us a note.
Highlights
Earliest Record
1273
2001 Population
660
1914 Population
464

7 Magyar, 456 Slovak; 431 Roman Catholic, 22 Greek Catholic, 7 Evangelical

Village Names
Petitsche, Peticse, Petecse, Pcice

1273 Peteche, 1451 Peticse, 1808 Petice

Ownership
Originally given to

Ják Sztaráy of Michalovce, by King Stefan. Later, it was owned by the Humenne estate. From the 17th to the 19th century it was owned by the Csáky noble family. Later in the 19th century, it belonged to the noble family Szapáry.
History
Situated near the Ptanok valley stream (which gave its name), it was first mentioned in the Zemplin county archives, containing a castle from the King Stefan to the nobleman Ják Sztaráy of Michalovce.
Through its history, its inhabitants were employed in agriculture and as woodsmen.
Source: Vlastivedný Slovník Obcí na Slovensku Bratislava 1977
1273 Peteche, 1451 Peticse, 1808 Petice. Situated in the Ptanok stream valley (which gave it the name), and mentioned for the first time in 1273 in the Zemplin County archives, it was a castle given from the King Stefan to the feudatory Ják Sztaráy of Michalovce. After that, it belonged to Humenné town. From XVII to XIX century was a Csáky family's possession. In the XIX century it belonged to nobles Szapáry. During the History, its inhabitants were occupied in agriculture and as woodmen. Source: Roberto Cannoni, Italy
Photos

THANKS to George Dolnak for the Photographs (2004).
Links to off-site webs will open in a new window. Please disable your pop-up stopper.
Last Update: 15 November 2020 Copyright © 2003-2021, Bill Tarkulich