Horna Lehota (Felsozabadi)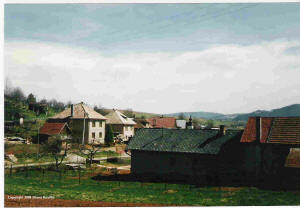 Village of Horna Lehota - Note (1)
Horna Lehota is a small village located west of Banska Bystrica. We have very little information about this village. If you would like to contribute knowledge or material about this village, please drop us a note.
Highlights
Earliest Church Record
2001 Population
1914 Population
1438

67 Magyar, 1321 Slovak; 677 Roman Catholic, 728 Evangelical, 33 Jew

Village Names
Felsozabadi
History
Photos

Bell Tower - Note (2)
Driapsa
NOTES (Diana Bouille)
1. This picture is looking into the village of Horna Lehota, taken just down from the Lutheran Church. Someone is mixing cement at the end of this sidewalk. The Tatra Mountains are in the background.
2. Lutheran Church Bell Tower
THANKS to Diana Bouille for the Photographs (2004).
Links to off-site webs will open in a new window. Please disable your pop-up stopper.
Last Update: 15 November 2020 Copyright © 2003-2021, Bill Tarkulich