Military Records in Upper Hungary (Slovakia)
Muster Lists
1871 Army Muster Roll Example - Snina Military District
Would appreciate help with corrections and filling in the blanks.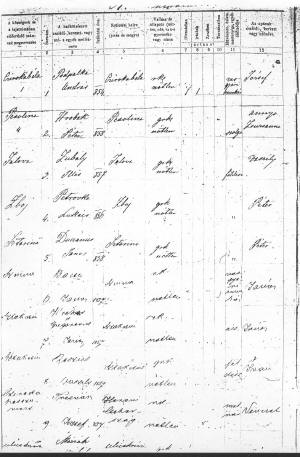 1. Village Name and roll number designation.
2. Registration (Roll) Number (the lower the number, the more likely you were selected)
3. Conscript's Family Name (Surname), christening or given name, other secondary name.
4. Birth Year
5. Birth Place (District and County)
6. Religion, Marital Status (notlen - single, unmarried, no''s - Married Man, )
Expertise
7. Read (1= yes)
8. Write (1 = yes)
9. Play a Musical Instrument (Zeneben)
10. Sport expertise
11. Trade or Profession
12. Father (or next of kin) Surname if different, Given Name
13. Town and house number of conscript
14. Final statement made by conscripted
15. Height
16. Chest Measurement
17. Annual exemption/release from active duty, order
18-19 - Findings of Recruitment commission
18. - Admission preferences
19. - Transfer status
20. Annual Status of Conscripted and Military Unit
21. Remarks or Comments
Resources
1867 Army Muster Roll - Includes column header English-language translations from Magyar
Family History Center
Copies of these muster rolls are found at the Family History Center, filed under "Slovakia", under the category of "Slovakia, Snina (okres) - Military records", with the following heading:
"Katonai nyilvántartási jegyzék, 1880-1887", (Muster rolls from the Szinna military district of Hungary, now Snina, Czechoslovakia. 1880-1887, births of 1852-1867." film number 629854. Uses old Magyar village names.
Credits
Thanks to Frank Kurchina for Magyar language clarifications. Thanks to Joe Jarfas for adding the translation in muster list column 10.
Links to off-site webs will open in a new window. Please disable your pop-up stopper.
Last Update: 15 November 2020 Copyright © 2003-2021, Bill Tarkulich